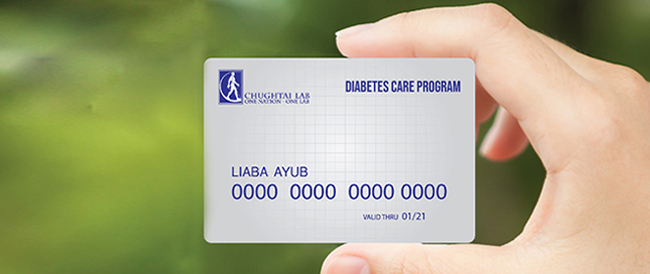 Diabetes Card
About Diabetes Care Program
Chughtai Lab Diabetes Care program is launched to facilitate diabetes patients across Pakistan to get checkups regularly. Diabetes Care Program cardholders can avail discounts on regular diabetes tests at any Chughtai Lab center across Pakistan.
How to get your Diabetes Card?
You can purchase your Diabetes Care Card against a payment of Rs 500 from any Chughtai Lab Center. At the time of the Diabetes Card request, please provide the following information to the Chughtai Lab representative in order to process your Diabetes Card:
Name
Contact no
Date of birth
CNIC Number
Postal address
Email address
Facilities on Diabetes Card
40% Discount on HbA1c
50% Discount on Blood Sugar
25% Discount on Creatinine
25% Discount on Urea
8% Discount on Medicines
15% Discount on Lab test investigations
15% Discount on Radiology
Validity
The Diabetes Care will be valid for a period of 1 year from the date of issuance. You may renew it at any time against a payment of Rs. 200. In case of loss, please call us to get a replacement Diabetes Card*
Terms and Conditions:
The Diabetes Care Card is valid for one person only.
The Diabetes Card is non-transferable.
The Diabetes Card is valid for one year from the date of issuance. Diabetes Card may be renewed against renewal fee payment upon member request.
Diabetes Card benefits at health care providers other than Chughtai Lab are at the sole discretion of that provider.
Chughtai Lab shall bear no liability in the event of a third-party healthcare provider opting out of honoring the Diabetes Card.
If you lose your Diabetes Card, please notify us immediately so that a replacement card may be issued. Replacement card fees shall apply.
Chughtai Lab reserves the right to alter/discontinue the Diabetes Care Program or individual Diabetes Card at any time at its sole discretion.
Special sales and promotions may not be eligible for discounts. Only one offer can be availed at a time.
Chughtai Lab may decide to not offer/discontinue discounts on certain tests/procedures.