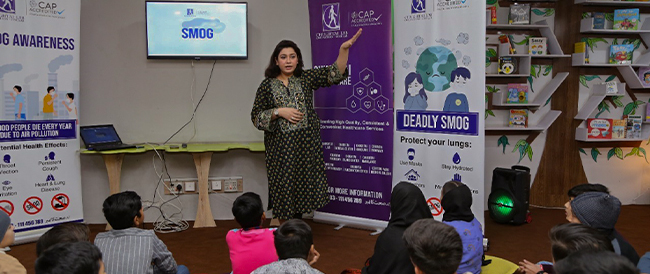 Community Education
Chughtai Healthcare Community Education Program is curated to engage the community in healthy activities and discussions.
Health is important and knowing how to keep yourself healthy can help individuals make better choices for themselves and others. Our programs are developed to provide just that. Chughtai healthcare Community Education team reaches out to schools, colleges, institutes, organizations, and public spaces (gyms, organizations, and malls).
Our sessions are exclusively designed to enlighten children and adults on topics important for their health and well-being. With the current pandemic, we have also started digital community engagement to ensure the community gets updated with the latest health news and trends.
For children we offer sessions on:
• Good Bacteria Bad Bacteria
• Germs Are Not for Sharing
• First Aid Training
• Lab Tours
• Storytelling sessions
• Latest Health Trends (Smog, Coronavirus, Flu, etc.)
For adults, we offer sessions on
• Women Health
• Coronavirus
• Disease Trends (Healthy Heart, Diabetes, Hepatitis, Bone Health)
• Lab Tour
To be a part of our community education initiatives email communityeducation@chughtailab.com.