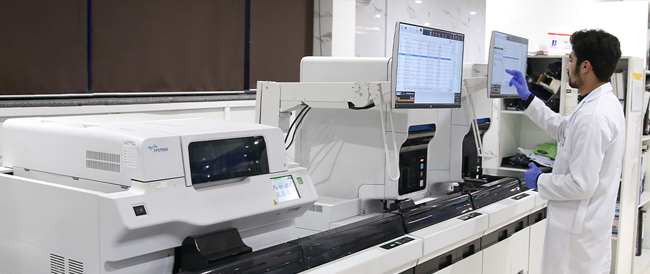 Hematopathology
Hematopathology is a rapidly advancing field of pathology which requires the use of advanced instruments and techniques. The Hematopathology Department is staffed by 6 consultant hematopathologists as well as several staff pathologists.
Routine Hematology
The CBC test is performed using 7-part Automated Hematology Analyzes from Sysmex, Mindray and Abbott Diagnostics. These instruments flag any samples with suspected abnormalities, which are then double- checked by the pathologist.
Hemoglobinopathy
Capillary electrophoresis technology is used to perform testing for hemoglobin disorders.
Flow Cytometry
Flow Cytometry is one of the latest innovations in the field of hematopathology. This technology can be used to quickly and accurately diagnose leukemias and lymphomas. Another utility of this technology is the accurate measurement of CD4 and CD8 cell counts in immunosuppressed patients. Chughtai Lab uses the BD FACSLyricTM Flow Cytometer to perform flow cytometry tests.
Coagulation Disorder Testing
Chughtai Lab performs an extensive menu of tests for bleeding disorders. These include highly specialized tests such as Platelet Function tests and thrombophilia screening. Factor V Leiden confirmatory test has also been started on molecular technique.
Protein electrophoresis and immunofixation
We are also conducting for patient suspicious of monoclonal gammopathies.
HLA Cross match / Flow DSA
We are also conducting HLA Cross match/Flow DSA for Organ/tissue transplant