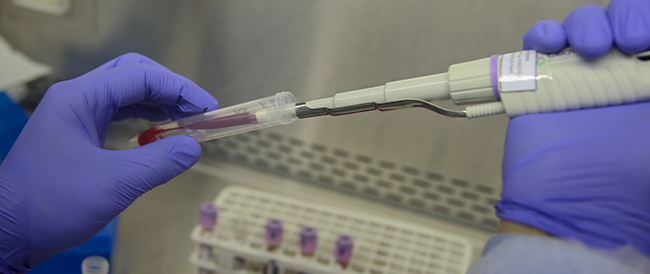 Molecular Genetics / Cytogenetics Department
The department of Molecular Genetics has been established at Chughtai Lab for the prenatal screening and molecular diagnosis of genetic disorders in children and adults. This facility may also be used for screening of healthy individuals as well as for training and research. The molecular genetics department will focus on the implementation of the implementation of the latest molecular technologies for the following application:
Testing for Chromosomal Aberrations
Detection of pathogenic mutations in the single gene disorders
Prenatal screening and detection of disease related mutations in targeted gene panels and across the entire genome using Next Generation Sequencing (NGS) technology
Technologies Used
Next Generation Sequencing (NGS)
Sangers DNA Sequencing
Real Time PCR (RT-PCR)
End Point Polymerase Chain Reaction (PCR)
Karyotyping and Cytogenetic Analysis
Fluorescent In-situ Hybridization (FISH)
Reverse Sequence Specific Oligonucleotide Polymerase Chain Reaction (RSSO PCR)
Current Parameters
Cytogenetics
Chromosomal Analysis/Karyotyping from Blood
Chromosomal Analysis/Karyotyping from Bone Marrow
Chromosomal Breakage Analysis for Fanconi's Anemia
PML-RARA Fusion Detection by FISH
BCR-ABL Fusion Detection by FISH
HER2 Amplification Detection by FISH
Molecular Genetics
BCR-ABL (p210) Quantitation by PCR
BCR-ABL (p190) Quantitation by PCR
JAK-2V617F Mutation Detection by PCR
HLA B*27 Allele Detection by PCR
EGFR Gene Mutation Analysis
KRAS Gene Mutation Analysis
BRAF Gene Mutation Analysis
PIK3CA Gene Mutation Analysis
NPM1 Gene Mutation Analysis
Factor V Leiden (FVL) Mutation Detection by PCR
Factor II Gene Mutation Detection
HLA 1 & 2 (Patient) HLA Tissue Typing
HLA 1 & 2 (Doner) HLA Tissue Typing
HLA Tissue Typing (Class I)
HLA Tissue Typing (Class II)
BRCA1/2 Genetic Analysis by NGS
Cancer Hotspot Genetic Analysis by NGS
Beta Thalassemia Gene Sequencing
CFTR F508del Mutation Detection for Cystic Fibrosis
HLA DQ2 & DQ8 Allele Detection for Celiac Disease
HTT Genetic Analysis for Huntington's Disease
SMN Genetic Analysis for Spinal Muscular Atrophy (SMA)
FLT3 Gene Mutation Analysis
In future, we will keep on adding new molecular genetics assays in our list e.g., BRCA1/BRCA2 NGS Panel, Cancer Hotspot NGS Panel, Prenatal Genetic Screening NGS Panel, Beta-Thalassemia Gene Sequencing etc.