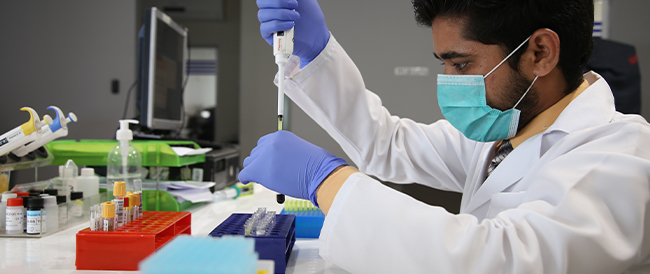 Clinical Chemistry & Immunology
The Clinical Chemistry and Immunology Department is the back bone of any modern diagnostic lab
Chughtai Lab uses top tier automated analyzers from manufactures of international repute. The Central Lab in Lahore is equipped with the Total Lab Automation (Accelerator a3600 – Impeco) which include Pre-analytical, Analytical & Post-analytical modules. Moreover, three Abbott Alinity Ci systems are attached with TLA which are serving as a backup for each other.
Apart from Total Lab Automation diverse variety of Analyzers are available to cover different diagnostic tests. Detail is as following:
Chemistry Immunoassay Analyzer (Cobas 6000 – Roche)
Immunoassay Analyzer (Liaison XL)
Immunoassay Analyzer (Liaison Diaisorin)
Immunoassay Analyzer (ids isys)
Immunofluorescence Autoimmune Analyzers (Helios – Aesku)
Autoimmune Analyzers (Blue Dot Diver – D-tek)
LabScan3D (for HLA Screening & DSA)
Automated Electrophoresis System (Interlab26)
ABGs Analyzer (OPTI-CCA-TS2)
Osmometer (Osmo1-Advanced Instruments)
Automated ELISA (Alegria – Orgentec)
Immunoassay Analyzer (Maglumi 800 – Snibe)
Stone Analyzer – (PerkinElmer & Thermofisher)
Chughtai Lab operates STAT Labs in Lahore, Gujranwala, Multan, Rawalpindi, Karachi, Attock, Faisalabad, Sargodha, Sahiwal, Bahawalpur, Gujrat & Quetta. These labs perform many common chemistry and immunology tests, dramatically reducing reporting time. All of the STAT Labs are equipped with automated analyzers having same standard as the Central Lab in Lahore. Using automated instruments all of these labs enable us to maintain the same high-standard of quality across the network.