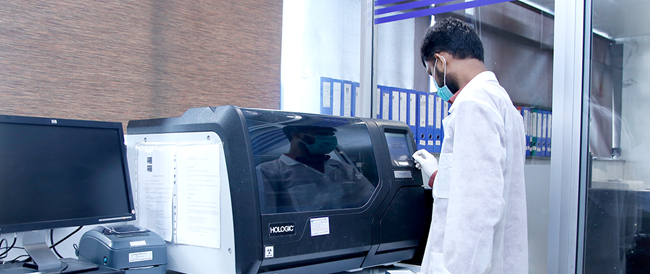 Cytopathology Department
Cytopathology department is dedicated to providing accurate cytological diagnoses and exceptional patient care. With advanced technology and a team of experienced pathologists, we offer comprehensive services in cytology.
Diagnostic Excellence in Cytology:
Our highly qualified pathologists specialize in examining cells from different parts of the body, including fluids, aspirates, and other specimens. Utilizing state-of-the-art equipment and leading-edge techniques, we ensure accurate cytological diagnoses, aiding in treatment planning.
Leading-Edge Technology:
As one of the pioneers of liquid-based cytology (LBC) in Pakistan our department is equipped with advanced microscopy and laboratory facilities, we maintain the highest standards of quality in cytological testing. Our department follows international reporting standards and utilizes the latest refinements in reporting systems, ensuring precise interpretations.
Fast and Reliable Results:
We understand the importance of timely results. With our commitment to efficiency, 95% of routine specimens are reported by the next day, excluding weekends. Our focus on rapid reporting ensures prompt diagnosis and effective patient management.
Education and Collaboration:
Continuing education and collaboration are integral to our department. We organize regular CME programs, journal clubs, and case discussions to enhance knowledge exchange among staff and trainees. Intra-departmental consultations are a regular activity to maintain diagnostic accuracy.
Accreditations and Certifications:
We are accredited by the College of American Pathologists (CAP) and hold ISO certification, reflecting our commitment to quality and adherence to international standards.
Comprehensive Services:
Our department processes approximately 24,000 samples annually.
Our services include Pap smears, LBC, Fine needle aspiration cytology (FNAC) including Ultrasound guided FNAC and routine cytology from various body sites and fluids.
ہم سے رابطہ کریں۔
For accurate cytological diagnoses and compassionate patient care, trust the Cytopathology Department at Chughtai Lab. Visit us at 7-Jail Road, Main Gulberg, Lahore, or contact us at 03 111 456 789 or info@chughtailab.com.