چغتائی ہوم کیئر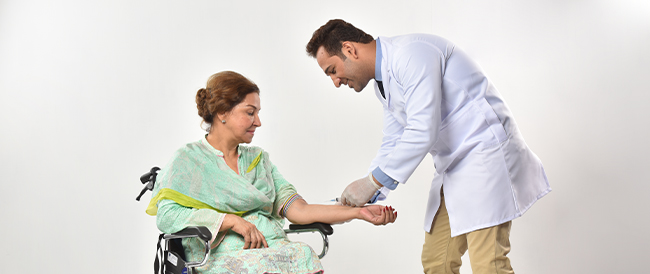 Chughtai Lab has been evolving and developing into a comprehensive healthcare brand over the past 38 years, offering various levels of services based on the individual needs of the patient. These services include ICU Level Care, Life Assistance Care, and Sehat Services.
Our Mission
Chughtai Homecare 24/7 offers hospital-quality healthcare services from the comfort of your own home. Services are delivered by qualified and trained staff under the supervision of our Head of Homecare. All homecare plans are designed according to each patient's individual needs and the instructions of the patient's doctor. We aim to make primary healthcare not only more accessible but also more affordable.
Furthermore, if you need to go to visit a doctor, our Chughtai Lab Homecare 24/7 staff will be by your side to guide you through all the steps such as making the appointment, completing patient's registration, as well as assisting in any diagnostic procedures such as x-rays or laboratory tests.
Chughtai Lab Homecare 24/7 staff members are carefully selected and screened. They undergo reference checks and are medically screened for communicable diseases. Our nurses often have many years of experience in the Intensive Care Unit (ICU) settings. In addition, our staff members take part in our exclusive multi-phase training program.
Our training programs include an overview of what services our care providers can perform, how to safeguard clients from potential safety hazards as well as how to communicate with the patient and family members.